Fun & Free Things to Do Veterans Day Weekend with LA Kids: Nov 8 - 9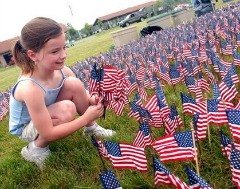 Well done, parents. We made it through the season's first challenge (and hopefully got rewarded with our share of the Snickersy, Kit Katty goodness). Now is a good time to take a moment to reflect, and what better time than Veterans' Day, as we honor those who have served our country. Unlike most holidays, this one isn't all about the kids, but Veterans' Day is a school holiday, and we've got the scoop to help you commemorate the holiday with your kids.
Soon enough, we'll be feeling winter's first chill and stuffing stockings with figgy pudding (that's a tradition somewhere, isn't it?), but luckily none of that's started yet. I mean, it's barely November.  It's not like you can already go ice skating at outdoor rinks across LA (gasp!). No one's putting up any Christmas trees (zoinks!) or inviting you to come see Santa (ho ho ...seriously?).
But. But. We haven't even done Thanksgiving yet! (At least this year T-Day doesn't coincide with Hanukkah .. but Christmas Eve does!)
Keep reading for our favorite picks for the weekend. (99.9% yuletide free!)
ALL WEEKEND
The Blue and the Gray Civil War Reenactment - Moorpark
The battles and daily life of the Civil War play out in the largest Civil War battle reenactment west of the Mississippi.
Big Hero 6 (PG) in 3D with Laser Light Show - Hollywood
Hiro and his big inflatable robot friend save the day at El Capitan Theatre Hollywood. And there are lasers!
 
Day Out with Thomas - Perris
Trek out to Perris to ride a train? Totally worth it – if you have a Thomas fan in your family.
Autumn Festival - Long Beach
Aquarium of the Pacific celebrates Asian culture with its annual Autumn Festival.
Autry Explorers: Native American Cultures - Griffith Park
The weekend activities at the Autry National Center include Native American dance, music and storytelling, with demonstrations of traditional crafts.
 
Japanese Garden Festival  - La Cañada-Flintridge
Families can learn about Ikebana (flower arranging), take tours of the gardens, and listen to Taiko drums at Descanso Gardens' annual family-friendly festival celebrating the art and culture of Japan.
 
SATURDAY NOVEMBER 8
City of Los Angeles Veterans Appreciation Festival - San Pedro
USS Iowa is the backdrop to LA's second annual celebration of this nation's veterans. The fun includes live music, a resource fair, a kid's zone, and free food.
Lowes Build and Grow - Multiple Locations
Get ready for the science! The free project at Lowes is a science kit – and it comes with experiment cards for science-doing at home.
 
Long Beach Veterans' Day Parade -  Long Beach
The City of Long Beach pays honor to America's veterans with its annual Veterans Day Parade.
 
Saturday Morning Stories and More - West LA
Sandra Sandia leads a Spanish & English Sing-Along Drum Circle at Children's Book World.
 
Glendale Library Arts & Culture Presents Saturday Morning Storytime - Glendale
The storytime at the Glendale Galleria has a Fall theme.
 
Target Free Family Saturday: Giving Thanks - Downtown
This month's fun free day at the Japanese American National Museum reminds us to give thanks -- to our veterans, family and friends. Kids can sample a free mini-pie, and enjoy a meet and greet with Hello Kitty.
 
World City: Git-Hoan Dancers – Downtown
This month's free concert explores the culture and ancestry of the Tsimshian tribes of the Northwest Coast of North America. The Git-Hoan Dancers perform with stunning, hand-carved masks, authentic skin and wood drums, and colorful hand-made regalia emblazoned with symbols of their culture.
BHCP Kids Club - Baldwin Hills
Baldwin Hills Crenshaw Plaza celebrates the coming of the holiday season with a special tree lighting and a kids' gingerbread ornament craft.
 
Día de los Muertos Fall Festival - Santa Monica
Santa Monica's bilingual immersion school's annual fair includes traditional Día de los Muertos altars made by the students, PTA-made tamales, live music, crafts, games, bouncers, and a kid-friendly haunted house.
 
Citadel Holiday Tree Lighting - Los Angeles
The Citadel Outlets host the lighting of the record-breaking, world's tallest Christmas tree (115-ft) with a free outdoor concert featuring performances by After Romeo, Josh Levi, Cimorelli, Christina Grimmie, and Jana Kramer.
SUNDAY NOVEMBER 9
Club MomMe Family Fall Fest - Palos Verdes Peninsula
Club MomMe's annual signature event offers panels with celebrities (and celebrity bloggers), pampering for mommy, and play for kids, plus the scoop on the best baby and kid gear and seriously awesome goody bags, on the grounds of the South Coast Botanic Garden.
Children's Garden Workshops - Irvine
This free workshop at Orange County Great Park starts with a 20-minute interactive presentation followed by a craft and planting activity.
 
Free Day at OCMA - Newport Beach
It's a global holiday celebration at Orange County Museum of Art, with lion dancers, a storyteller, family tours, and hands-on art-making.
 
Hammer Kids Close Encounters: Stitched Words: Finding Poems Inside Artworks - Westwood
Families can explore the intersection of art and poetry stitch by stitch at the Hammer Museum.
 
Family Art Workshop - Hollywood
This week's free workshop at Barnsdall Park ventures to Mali to create a Chiwara Headdress of the Baman.
Laurence School's Annual Holiday Boutique - Studio City
Families can shop for the holidays early at this annual Holiday Boutique featuring dozens of designers selling gifts at wholesale prices.
Second Sunday Concert Series - Mid-Wilshire
Singer-songwriter duo Andrew and Polly entertain at the Zimmer Children's Museum.
TUESDAY NOVEMBER 11: VETERANS' DAY
Free Entrance Days in the National Parks - The Great Outdoors
National parks are free for Veterans' Day, so why not get out and experience this great land of ours?
San Fernando Valley Veterans' Day Parade - Pacoima
This one-mile parade honors servicemen and women past and present in all branches of the military.
Veterans Day at the Nixon Presidential Library - Yorba Linda
Richard Nixon Presidential Library and Museum is free for Veterans Day, with a color guard presentation and a concert by the 90-piece Placentia Symphonic Band.
As always, there are many more activities listed on our daily events calendar.  Whatever you choose to do, have a wonderful weekend! And to our nation's veterans, a sincere and heart-felt thank you.