Toys for Tots and Other Donations for LA Children at Christmas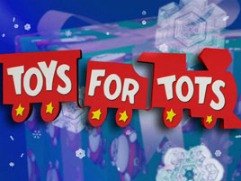 With Black Friday, Small Business Saturday, and Cyber Monday all behind us, can we take a breath to remember some of the ways we share joy this season that don't involve shopping here, there, and in our PJs? Maybe we can find some time to volunteer with our kids and help those less fortunate. If we are pursuing the parental thrill of buying super-cool toys, wrapping them, and making our kids' day on Christmas or Hanukkah, maybe we could add one for a child in need. Or, if money is too tight to donate a new toy, how about passing along some of last year's gifts to make room for what Santa delivers this season? We know of some great places to bring both kinds of toy donations and spread around some of that holiday joy.
It's sometimes trickier than you might think finding someone (other than a younger cousin) to gratefully accept gently used toys. One way to recycle last year's favorites is by donating them to thrift shops. The Salvation Army, American Red Cross, and a long list of local hospitals, churches, and other worthy charities operate thrift stores where some families are looking to buy second-hand treasures to thrill a new round of kids.
Los Angeles County Toy Loan  is another great option for donating second-hand toys in good condition. This wonderful program has been around since the Great Depression, lending toys to needy families on an honor system, much like public libraries.
Other charities hope to share in the thrill we get from buying something new by asking donors to bring new toys for kids in need. The following annual holiday programs accept donations of new, unwrapped toys, which they pass on to little ones for Christmas:
Toys for Tots is probably the most famous of the holiday toy drives. Operated by the Marine Corps each holiday season, the charity brings gifts to less fortunate children all over the country. You've likely driven by signs somewhere already, but check the list of LA drop-off locations to find all the options.
Spark of Love is the Los Angeles Fire Department's holiday toy drive; stations generally start collecting and accepting requests for new toys the day after Thanksgiving. Why not call in advance to see if it's a good time to take a tour of the station, letting kids get two great lessons in one outing? Fire workers not on call are always happy to let little ones sit on the trucks and check out the gear.
Amoeba Records in Hollywood collects new, unwrapped toys for the kids at Five Acres (children & family advocacy) from November 25 to December 23. As  bonus, everyone bringing a gift receives an Amoeba coupon for helping out.
If you know of another good program, please share it in the comments section below!
Originally published November 17, 2011