LA's Outdoor Ice Skating Rinks from Downtown to Thousand Oaks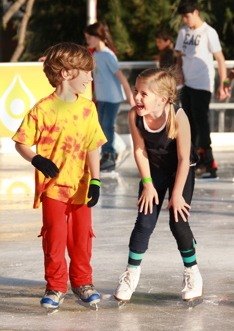 One thing Angelenos love doing during the winter months is pretending that it's winter, and the most fun way we do it is by turning parking lots and other open spaces into outdoor skating rinks for the holidays. Whether your family is trying skating for the first time, or you've got budding athletes looking for a change of scenery from indoor skating lessons, nothing says Southern California quite like the sight of kids and families in tank tops and mittens gliding merrily in the sunshine.
Our best Mom Tip? Be sure to bring along a change of clothes; Southland ice rinks on a sunny day have more in common with a Slip 'n' Slide than with a frozen mountain lake, and falling with a splash is only funny when you know there are dry clothes waiting.
These rinks generally come back year after year - and most offer skating lessons and birthday parties, too.
ICE at Santa Monica
1324 Fifth Street
Santa Monica, CA 90401
310.496.9880 or 310.260.1199
November 1, 2015–January 18, 2016
Mon-Thu: 2pm-10pm (during school break 10am-10pm)
Fri: 2pm–Midnight (during school break 10am-Midnight)
Sat: 10am–Midnight
Sun: 10am-10pm
Admission & Skate rental $15
Locker Rental $10 (w/ $5 refund upon key return)
The seasonal ice skating rink, ICE at Santa Monica, has become a regular part of the beach city's scene, setting up in a parking lot on the corner of 5th and Arizona, just steps from Third Street Promenade. Skate rentals are included with the price of admission, and hot dogs, cocoa, and other treats are available rinkside.
Group and private skating lessons are offered through the Randy Gardner School of Skating, and an event tent is available for birthday parties.
Woodland Hills Ice
6100 Topanga Canyon
Westfield Shoppingtown Promenade
Woodland Hills, CA 91367
818.854.4151
November 11, 2015 - January 24, 2016
Mon-Thu (non holiday): 11am-10pm
Fri & Sat: 11am-11pm
Sun: 11am-9pm
Weekend freestyle sessions 8am-9am
Longer hours on holidays
Admission & Skate rental: Adults $15; Children $13
Woodland Hills Ice opens for business each autumn, setting up 7000 festive square feet of outdoor skating rink at Westfield Shoppingtown Promenade throughout the chilly(ish) months. The rink is the San Fernando Valley's only outdoor, open-air ice rink, where families can skate and get a tan by day, or enjoy skating under the sunset and stars by night.
Birthday parties and lessons are available, as are frequent skater cards. The ice closes only during very heavy rain.
Spectrum Ice Rink
71 Fortune Drive
Irvine, CA 92618
949.748.8280
October 2, 2015 - February 15, 2016
Adults & Children $15; Skate rental $4; Toddler double blades included with admission (sizes 8T-12T); Helmets free
Ice scooters $5
The Spectrum's seasonal ice rink is open for business in Giant Wheel Court, welcoming OC families who want to glide across the ice in the SoCal sunshine and give new meaning to Orange Slushy. Check the rink's website for specific session times; admission is for one session, between ice cleanings. Parties are available, and season passes (no black-out dates) cost $199; for more information call 949.748.8280.
Downtown on Ice
Pershing Square
532 South Olive St,
LA 90013
213.847.4970
November 12, 2015—January 18, 2016
Mon-Fri 11:30am-9:30pm
Sat 10am-11am
Sun 10am-9:30pm
Christmas & New Year 1pm-9:30pm
(Times above subject to change)
Other special holiday and vacation hours are on the website.
Admission $9 per one-hour session; Skate rental $4
The annual Downtown on Ice outdoor holiday skating rink has been an LA institution for 17 years. Families glide under sun and stars, enjoying free concerts on many days (see schedule). Other events at the ice rink include youth programs with shows for kids on Saturdays, and an annual skate date for Snoopy and world champion pair skater Tai Babilonia.
Extended skating hours apply during school vacation time. Underground parking is available, and discounts are given with skating validation. Discounts are also available on city buses. Parties are an option here, too.
LA Kings Holiday Ice
800 W. Olympic Blvd.
Los Angeles, CA 90015
310.535.4400
November 28, 2015—December 31, 2015
Mon-Fri 5pm-11:30pm
Sat-Sun 3pm-11:30pm (ice cleaning break 7:30pm-8pm)
After December 14, all days are weekend schedule.
Adults $17; Kids (under 7) $12; skate rental included
Downtown's other seasonal ice rink has grown up to become real competition for the Pershing Square rink. Once tiny and brief - more to look at than partake in - the rink at LA Live is now one of the largest in LA, adorned by a giant, family photo-worthy Christmas tree in the center. The ice quality is surprisingly good, and the setting is festive and fun. One thing to be aware of, though, is that each evening from 6pm-6:30pm the ice is cleared for red carpet presentations of major donations to the Children's Hospital.
Note that although the address is listed as Olympic Blvd., the rink faces onto Chick Hearn; closest parking is Lot W, entrance B, on Chick Hearn (price varies from $10-$20 depending upon Staples/Nokia Plaza events). Some of the restaurants at LA Live offer Supper and Skate specials.
CHILL at the Queen Mary
1126 Queens Highway
Long Beach, CA 90802
November 20, 2015 - January 10, 2016
Times vary
Adults $40 and up; Children (4-11) $30 and up; Children must be 4 years old to skate.
The Queen Mary down in Long Beach presents its own icy paradise, including a real ice skating rink with a vintage cruise liner for a backdrop, ice tubing, and a magical ice kingdom of sculptures and decorations (see our full review). Note that this season there is no a la carte pricing; skating only comes with the whole event ticket. Buying tickets in advance online is the cheapest way to go. Once inside, kids can skate as long as they like and ride the ice tubes as often as they like. Official Queen Mary parking costs $20, so it's definitely worth looking for other parking options or public transport.
The Rink in Downtown Burbank
December 10, 2015 - January 3, 2016
Sun-Thu 10am-10pm, Fri-Sat 10am-11pm
$10; Skate rental $4
818.238.5180
Downtown Burbank brings back its outdoor skating rink for the second year, adjacent to City Hall at Third Street and Orange Grove. The 4,100 square foot rink accommodates up to 165 skaters per session and promises themed entertainment, twinkling lights, and joyful music. Free parking is available at structures throughout Downtown Burbank.
The Lakes Holiday Ice Rink
2200 E. Thousand Oaks Blvd.
Thousand Oaks, CA 91362
805.497.9861
November 16, 2015-January 24, 2016
Mon-Fri 12pm-9pm, Sat 10am-11pm, Sun 10am-9pm
Admission $15 per person
Thousand Oaks' rink sets up at The Lakes next to the Civic Arts Plaza. Ventura County families can hit the ice every 90 minutes (then, for the full winter effect, take a 30 minute cocoa break while the zamboni does its job).
Beverly Hills Holiday Ice Rink
455 North Rexford Drive
Beverly Hills, CA 90210
Dates TBA
Sun-Thu 12n-9pm; Fri-Sat 12n-10pm
Adults $15; Children (under 12) $11 (Charges are per one hour session)
We're still waiting to find out if Downtown Beverly Hills is bringing back its seasonal ice rink in front of City Hall this year.
Other rinks pop up around the city - sometimes for as briefly as a day (yes, Malibu, we're looking at you!) - so keep an eye on our events calendar to catch all the fun!
Originally published November 6, 2011