Best Christmas Lights and Awesomely Decorated Homes around Los Angeles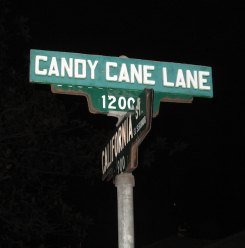 Whether your holiday of choice is Christmas, Hanukkah, Winter Solstice, or Kwanzaa there is a timeless joy to be found in taking a spin around the holiday light displays. And while the glammy glitz of Rodeo Drive or the Queen Mary is always fun, there is a particular magic to those over-the-top displays created by someone's (though thankfully not your) next-door neighbor. Even better - a whole street made up of nothing but this kind of neighbor.
LA County has plenty of these community treasures hidden in plain view; we've got some of the top crowd-pleasers listed below (plus several in Orange County). And while we SoCal famlies do try, for the most part, to achieve something of a Green Christmas, for just one evening we can forget that we're burning fossil fuel to admire electricity-guzzling visual excess. Or, better yet, park the Prius, walk through, and only look at the houses using LED lights...
Candy Cane Lane - El Segundo
1200 Acacia
El Segundo, CA 90245
The eastern block of Acacia Avenue is announced by a Candy Cane Lane sign, marking a tradition of more than 60 years. Houses are alight with trains, reindeer, giant characters, and music, plus frequent appearances by Santa Claus in a covered sleigh at the end of the cul-de-sac. The lights go on at 6:00pm; Santa usually sits down in his sleigh at about 7:00pm. Opening night always includes extra entertainment.
Candy Cane Lane itself is closed to cars - making for a delightful, one-block family stroll - and parking is available throughout the neighborhood. The last night of the public display is usually December 23, keeping the street more private for the actual holiday.
Candy Cane Lane - Woodland Hills
Lubao and Oxnard Streets
Woodland Hills, CA 91367
The Valley's version of Candy Cane Lane can be enjoyed from the comfort of one's car, but be prepared for traffic as the holidays draw closer. The group of homeowners on the four streets bordered by Oxnard, Martha, Corbin, and Winnetka collectively out-do themselves every year, and cars are drawn like kids to Santa. Visitors are encouraged to dim headlights on the eight-block stretch so that everyone can enjoy the lights. Brace yourself for slow-moving traffic - so slow, in fact, that most cars end up with kids poking their heads through the sunroofs waving at each other with holiday cheer.
The lights can generally be enjoyed from the second Saturday in December through New Year's Eve.
Nortons Winter Wonderland - Burbank
513 N. Flornce Street
Burbank, CA  91505
This fellow Dick Norton is about as Christmasy a neighbor as anyone could want - and he lets everyone feel like his neighbor by sharing both the lengthy construction process and his nightly light show via a string of webcams. His website has plenty of info, including confirmation that he's making his target date of the first Saturday in December. The website also has a link for sending email to Santa, and info about another formidably lit house on his street, Keith's Winter Snowland.
Christmas Tree Lane - Altadena
2024 Santa Rosa Lane
Altadena, CA 91003
Altadena's famous Deodar cedar trees have been lit with festive strings of lights every year since 1920, in what is recognized as the oldest large-scale outdoor Christmas display in the world. The road is closed to traffic, so bundle up to fully enjoy the  .7-mile light display on foot.
Lights switch on the second weekend of December with a big tree lighting event and remain lit (until 10:00pm nightly) through January 1.
Sleepy Hollow Christmas Lights - Torrance
Robert Road
Torrance, CA 90505
Torrance's Sleepy Hollow neighborhood has been sending up flares for Santa for more than 40 years, and there's no question he's seen them - along with a whole lot of other admirers. Traffic pours through nightly from Thanksgiving until Christmas to take in the brilliance; one can only hope that no one in the neighborhood is waiting for a pizza delivery guy.
Parking options are best on either Pacific Coast Highway or Prospect. Robert Road is just north of Calle Mayor off PCH.
Upper Hastings Ranch - Pasadena
North of East Sierra Madre
Pasadena, CA 91107
Since 1957, each block in this neighborhood has decorated its homes to a theme, marked by an icon placed in the parkway, and themed wooden signs along each block. The neighborhood is large enough that one evening's drive probably won't catch everything; but the pride this neighborhood takes in the collective project definitely merits an evening's drive. Choose a route, and let the oohs and aahs begin; opening night is generally the first Sunday in December.
Lights generally stay up through January 1.
Yolanda Lights Winter Holiday Light Display - Reseda
7300 block of Yolanda Ave.
Reseda, CA 91335
The neighbors along Yolanda Avenue want you to park your car, admire their handiwork, and donate some canned food items or blankets for the local homeless. The display is a simple incandescent tunnels of light straddling the sidewalks on both sides of the street, which is on the south of Valerio. Construction on the series of lighted archways begins on the Saturday after Thanksgiving each year, and the display remains until Three Kings Day (January 6).
The season generally includes a bike parade; 2014 date has not yet been announced.
Zimmerman House - Balboa Island
**Note that the Zimmerman House is taking a break in 2014.**
327 Sapphire Avenue
Balboa Island, CA 92661
OK, this one isn't a neighborhood; it's just one house, but what a doozy. Billed as Newport Beach's first computerized residential holiday light display, these folks are clearly not the Joneses one wants to try keeping up with. The house has won all sorts of awards (yes, there are awards for this sort of thing), paying tribute to its 25,000 light bulbs synchronized to Christmas tunes, 25-foot Christmas tree, falling snow, and Santa in a helicopter.
The Z house lights up proudly from Thanksgiving to New Year's Eve.
There are also plenty of opportunities to view extravagant home light displays by taking a holiday drive out of the city, or by indulging in one of the Southland's Holiday Boat Parade events - some of which sail past houses so brightly lit you can barely see the boats!
Curious how LA's Christmas lights compare to the rest of the nation? Check out our 12 favorite home light displays around the country.
Originally published December 5, 2011