Kite Festivals and Places for LA Kids to Fly Kites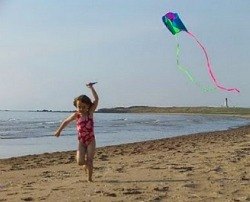 "With tuppence for paper and strings / You can have your own set of wings..."
Okay, so the beloved Mary Poppins tune is a bit dated; kites cost more than tuppence these days. But not much. And now that it's spring, and the sea (and mountain) breezes are tickling our cheeks, why not let them lift our kites as well? Read on for suggested places to buy (and ways to make) a kite - as well as where you and your kids can set them to soar - with your fist holding tight to the string of your kite. Come on! Let's go fly a kite!
Still not out the door? Need more incentive? Well, April is National Kite Month. Sponsored by the American Kitefliers Association, this designated month (technically March 31 - May 6, 2012) hosts special kite-related events all over the country to celebrate the challenge and fun of kite flying. On April 14 & 15, for example, check out the first annual Otis Kite Festival at Santa Monica Beach (see specific location details in our "Kite Festival" section below) where artist and large scale kite designer Tom van Sant (among others) fly their kites - and your kids can fly theirs, too! Or they can watch the spectacles while playing in the sand.
Perhaps you want your own space to send your kite ripping into the sky. We have a few suggestions for that as well. But first some safety considerations. Always remember the three C's of kite flying: Caution, Courtesy, and Common Sense. Parks, beaches, and playgrounds are often crowded, and other people there may not want to worry about the threat of a kite diving nose first toward their picnic table, or to find kite strings in their barbecue. Make sure you have ample space. Also, don't fly near roads where drivers might get distracted. And, of course, stay clear of electrical wires and trees where there might be nesting birds.
It doesn't take a rocket...er...kite scientist to tell you good kite flying requires a wide open space. Besides the obvious - it's no fun when your kite gets lodged in the neighbor's rain gutter - buildings and trees can cause wind interference making your kite's flight rather bumpy and unpredictable. Lucky us, we have miles of area beaches that fit the wide-open-space bill. In addition, we also have parks all over the region. But the best kite hot-spots? Here are a few:
Ascot Hills Park
4371 Multnomah St.
Los Angeles, CA 90032
Ninety three acres of rolling hills, grass, wildflowers, and shrubs are open and lovely, with views of the city and the Hollywood Hills. Maybe that's why the park hosts an annual kite festival (see below). And why it just may be calling your kite's name.
Burton W. Chace Park
13650 Mindanao Way
Marina del Rey, CA 90292
310.305.9595
Meandering little grassy hills, swaying trees (to enjoy when your kite is on the ground), Marina views, and a forever breeze. You can run; you can picnic, and yes, you can whittle away the afternoon hours with your kite in the sky.
El Segundo Recreation Park
401 Sheldon Street
El Segundo, CA 90245
310.524.2700
Large. Open. Grassy. Get ready for kite flight here!
Fairview Park
2525 Placentia Ave.
Costa Mesa, CA 92626
Okay, if a kite shop recommends it, it must be good. For one thing, there's lots of open space. And what goes better with space than great views, water features, and wild flowers? Model glider airplane flying (model planes like space, too) is popular in the central part of the park, with organized events. If you don't feel like packing your own snacks, swing by Jersey Mike's Subs before you roll out your kite strings.
Granada Park
2000 W. Hellman Ave.
Alhambra, CA 91803
626.570.5081
"Ridiculously large grassy area" says one eager park goer. Need we say more?
Korean Bell of Friendship
Angels Gate Park
3601 S. Gaffey St.
San Pedro, CA 90731
310.548.7705
This area is by far the most popular place around for kite flying. Why? Fliers rave about the open space, bluffs, breezes and panoramic views of Catalina Island and Channel, and the LA Harbor. While you're there, have a peek at the Korean Friendship Bell and Pavilion, a 17-ton, 12-foot high copper and tin bell given by the people of the Republic of Korea to honor veterans of the Korean War, the friendship between Korea and the US, and the American bicentennial. Pick up a sandwich at the Busy Bee Market, just a mile or so away, to have a picnic and make it a day.
Silver Lake Meadow
Silver Lake Blvd., at Earl Street
Los Angeles, CA  90039
Map
Bordering the Silver Lake Reservoir, this little meadow is a splendid destination with kite in hand. No dogs are allowed here, meaning no surprises on the bottom of your shoe. Just lots of open space, and almost always a breeze.
No kite in your closet? No worries. Gone are the days when your only purchasing option was the local toy store...
Harbor Wind and Kite
1575 Spinnaker Dr. #107B
Ventura, CA 93001
805.654.0900
The store's mission? "...To further the kite pioneering spirit of wind, fun, and freedom." I think we should all shop there! Plus it's right in Ventura Harbor. With easy access to the nearby beaches, you can shop and fly within moments.
Kite Connection
61 Main Street (on the Huntington Beach Pier)
Huntington Beach, CA 92648
714.536.3630
From single line (the kind most of us are familiar with) to dual and quad line, the Kite Connection sells them all. Customers rave about the store's friendliness, service, and expertise (its online customer service is well liked as well).
Sunshine Kite Company 
110 Fisherman's Wharf
Redondo Beach, CA 90277
310.372.0308
Located on the pier in Redondo Beach, the Sunshine Kite Company offers a full selection of kites (as well as yo-yos and diabolos). Stop in to buy a kite, and to ask for help in learning to fly it. The staff are passionate about what they sell and like to share their know-how. Sunshine Kite also hosts a kite festival in March each year. See Kite Festivals below for more information.
If you'd rather shop online, check out this pocket kite, or browse Fun With Wind or G-Kites. Or try making your own kite.
Kite Festivals
Otis Kite Festival
April 13, 2014
Just north of the Santa Monica Pier
Free
Parking $8 at the Pier Lot
Nothing screams free-and-easy more than a sky full of kites. And full the skies will be during this kite festival on Santa Monica Beach. Kite builders and aficionados (some from nearby Otis College of Art and Design) will be sailing their wares, large and small. You, too, can join in on the action, or watch from afar with your toes dipped in the sand while you listen to the waves crash into the shore.
Kite Flying Festival
April 22, 2012 (Earth Day)
Ascot Hills Park
4371 Multnomah Street
Los Angeles, CA 90032
It was such a success last year, it's happening again. Bring your favorite kite (some snacks and a picnic blanket) and join other fliers for the second annual Kite Flying Festival at Ascot Park. Rolling hills and fields spread before you as you watch clusters of colorful kites fill the skies. Awards are given. In case of rain, the festival is held the following week.
Japan America Kite Festival
Seal Beach, just North of the Pier
Map
3rd week of October
Free
Brought to you by the Japan America Society of Southern California, and the Up Up and Away Kite Club, this splendid festival -- perhaps the biggest and most popular in the area -- is not to be missed. Held on October 20 in 2013, the event included demonstrations from visiting kite teams, sport kite displays, opportunities to build and fly your own kites, a performance by the Taiko Drummers, as well as a display of kites created by master Japanese kite builder, Mr. Mikio Toki. Keep an eye on the link above as October 2014 draws closer.
Festival of the Kite
Redondo Beach Pier
For nearly 40 years, this festival has entertained young and old on the Redondo Beach Pier. Sponsored by the nearby Sunshine Kite Company, the festival takes place in early March. Watch a variety of kites from hand-made to stunt kites dazzle the skies. Prizes are awarded for various categories. And if you're hungry, there's a Hot Dog on a Stick eating contest there as well. Mmmmm!