Egg Hunts and Bunny Fun on Easter Weekend for LA and OC Kids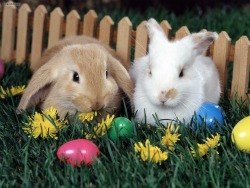 Some of us have lovely gardens and the inclination to creatively hide eggs in them early on a Sunday morning. Others have an inclination to sleep late and find eggs hidden in someone else's garden. We find no shame in that and are more than happy to help guide you to lots of places where Peter Cottontail has evidently just been moments before. Most of the egg hunts below take place Easter weekend; keep an eye on our Event Calendar for last minute additions, or check out these other places to meet the Easter Bunny!
Downtown
Pershing Square Community Egg Hunt - Pershing Square
April 4, 2015
Age separated egg hunts are only the beginning; families can also count on inflatables, crafts, entertainment, and an appearance by the Easter Bunny.
Easter Fest and Egg Hunt - Grand Hope Park, Downtown
April 5, 2015
New City Church of LA's Family Easter Fest involves thousands of eggs, lots of games, a few pies, and a moon bounce. What's not to love?
Westside
Spring Festival & Egg Hunt - Westwood Recreation Center
April 4, 2015
Local eggs are the best eggs; kids can hunt for the Spring Bunny's eggs at the park's recreation center.
Peter Rabbit Day - Santa Monica
April 4, 2015
The Santa Monica Jaycees present the beach city's annual bunny event at Douglas Park, with egg hunts, egg painting, and photo ops. (Another BYOB event)
Easter Hoppening - Malibu
March 27, 2015
Another annual bunny treat for beachside families, Malibu's "hoppening" is a week early this year. Get a hop on the Easter Bunny, egg hunts, a bounce hunt, and lots of activities. BYOB and C (that's camera) for collecting biodegradable eggs.
Family Easter Egg Hunt - Palisades Park, Pacific Palisades
April 4, 2015
The Easter Bunny is moving fast, stopping next in the Palisades for a family egg hunt.
Easter Extravaganza - Century City
April 4, 2015
Westfield Century City is offering an all-day egg hunt, with a little help from Giggles 'n' Hugs and a petting zoo full of animals.
Books and Cookies Egg Hunt - Santa Monica
April 4, 2015
The kids' book shop starts a new annual tradition, hiding eggs among the books. Advance registration is recommended.
Bugs Bunny Easter Egg Hunt - Santa Monica
April 5, 2015
The Aero hosts its annual Easter Sunday Bugs Bunny Fest accompanied by an egg hunt in the cinema.
The Valleys
Egg Hunts and Scrambles - LA County Arboretum, Arcadia
April 4, 2015
Egg hunts in the Arboretum start off with a natural advantage, even before they start adding prizes and snacks.
Los Encinos Living History Egg Hunt - Encino
April 4, 2015
This park's most popular annual event sets egg hunts among historical re-enactors, old-time music, and tours of the historic adobe. BYOB (that's Basket!)
Easter on the Farm - Moorpark
March 28-April 6, 2015
This isn't Easter on any old farm; it's Underwood Farms. And if there's one place the Easter Bunny is likely to want to spend the holiday weekend, it's bound to be here.
Egg-stravaganza at The Lakes - Thousand Oaks
April 1, 2015
No fooling - The Lakes at Thousand Oaks invites families for a free egg hunt and photos with bunnies. Bring your own basket.
Kidspace Egg Hunt - Pasadena
April 4-5, 2015
Hunting for eggs, decorating eggs, and making cute little bunny ears makes for lots of little bunnies at Kidspace Children's Museum.
South Bay & Orange County
Egg Hunt Eggstravaganza - Rancho Palos Verdes
March 28, 2015
Bring a camera for hunting and a basket for gathering at Ladera Linda Park's eggstravaganza.
Easter Festival & Treasure Hunt - Costa Mesa
April 4, 2015
Photos with the Easter Bunny are free, as are treasure hunts and whole lot of other fun at the OC Fairgrounds.
Easter Eggstravaganza - Irvine
Daily through April 4, 2015
There's so much to do at Irvine Park Railroad's annual Easter celebration that you really would need to go daily to do it all (no doubt why the Easter Bunny spends so much time there). Of course, if you were to do it all, you could then start on the OC Zoo, the pony rides, the paddle boats - there's just a lot to do!
Lawndale Easter Egg Hunt - Lawndale
April 4, 2015
Egg hunts, crafts, and Easter Bunny photos keep things hopping at William Green Park.
Dana Point Egg Hunt - Dana Point
April 4, 2015
The Easter Bunny, egg hunts, games, and a petting zoo - Dana Point pulls out all the stops for local bunny fans.
 
Originally published on April 3, 2012