Apple Picking in LA? Pick Your Own this Season!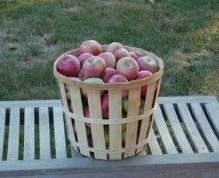 "Apple picking in LA?" your Northwest/Midwest/East coast friends scoff? Well you can tell them that California is the second largest apple exporter and the fifth largest apple producer in the United States. While it may not feel like fall in the Valley - where I heard it was 103 degrees the other day - there are some apple-picking day trips to be had in the area that feel like a seasonal retreat. (And when your bag runneth over, check out these tempting apple recipes...)
When I volunteered to help drive my son's third grade class 90 minutes east on the 10 freeway for a field trip, I braced myself for what I was convinced would be a long, grueling day, with third grader music requests in route not helping.  But as we entered Oak Glen, I could already feel the freeway stress melt away. The crisp air, the changing colors, the rolling hills covered with apple trees - it felt like an oasis filled with everything I love and miss from the Midwest about fall.  
Oak Glen is on the way to Palm Springs, about 8.5 miles northeast of the 10 freeway. While there are many apple-picking options in the area, our class went to Riley's Farm. Upon entering, I was immediately lured to a stand with the most beautiful apple pies this side of my Aunt Maxine's farm kitchen in Wisconsin. (These mountain- shaped, apple-stuffed pies are so popular you often have to pre-order them to make sure you get one.) But I digress. We were greeted by a friendly young tour guide, dressed in period clothing, who shared interesting local history, including how the farm was originally purchased for $8 along with a saddle, a chicken, and a jug of whiskey.  
Next we bounced through a lovely hay ride through the farm and orchard, picking up lots of apple facts along the way (like apparently some grocery store apples are genetically engineered to last unappealingly years on the shelf) and then enjoyed learning about 19th century farm life, complete with authentic turn of the century cabin and tools. (Did you know the expression 'sleep tight and don't let the bedbugs bite' comes from when hay-stuffed mattresses – potential bedbug haven – were laid upon ropes that had to be tightened by turning a crank at the end of the bed?)  The kids tried on period clothing and did some of the chores as they would have been done then. (Except my son who was busy re-enacting a civil war battle.  It's amazing what a hat will inspire.) We had the most fun, though, making our own cider at the big cider press with fresh picked apples. To this day, my son still says it's the best apple cider he's ever tasted.
As Riley's has one of the largest orchards in The Glen, you can also pick your own apples, choosing from just shy of one hundred different varieties grown there (especially heirloom varieties), some on trees more than a hundred years old. Other orchards in the area are absolutely worth exploring as well, particularly the ones listed below.
While the farms offer many apple picking and family-friendly activities, when all is said and done, I'm going back for the pie.
Riley's Farm
12261 S. Oak Glen Road

Oak Glen, California  92399
909.797.7534
Riley's Apple Farm (family related but separately run from Riley's Farm)
12201  S. Oak Glen Road
Oak Glen, CA  92399
909.797.4061
866.585.6407
Riley's at Los Rios Rancho (apparently a big extended family)
39611 Oak Glen Rd #13
Oak Glen, CA  92399
909.797.1005
Willowbrook Apple Farm
12099 South Oak Glen Road
Oak Glen, CA  92399
909.797.9484
Check out more SoCal pick-your-own options.
Originally published September 29, 2011