12 Great Parks for Kids' Birthday Parties around LA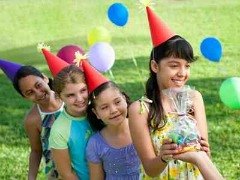 Lucky for us, hosting free (or mostly free) kids' birthday parties at Los Angeles' glorious parks - or San Fernando Valley's parks - is available year round, and with the almost always perfect weather, it's a great perk to take advantage of. From rustic to scenic to built-in activities, the city's bounty is near limitless. And the best part: no sticky floor and dirty fingerprints to scour afterward. Read on for our dozen favorites (plus check out these parks that allow bounce houses, parks with barbecue grills, and parks with gated playgrounds, too).
Virginia Avenue Park - Santa Monica - Get Wet!
2200 Virginia Ave. Santa Monica
310.458.8688
This recently renovated park is an instant classic with an interactive water play area called the "Splash Pad" where kids can run in and out of the water. The fountain almost seems to dance as it squirts on and off. There are also a couple of play areas, two rentable community rooms (for 30 or 100), picnic tables (mostly in the sun), BBQs, and basketball courts. Get there early if you want to reserve a table, and bring a swimsuit!
Charles H. Wilson Park - Torrance - All Aboard!
2200 Crenshaw Boulevard.
310.618.2720
The free choo choo train ride alone makes this a terrific park, especially for small aspiring conductors. The expansive 44 acres offers dozens of shaded benches, BBQs, a duck pond, two jungle gyms, and a tree house - and the parking is plentiful. Just make sure you plan your party on the right day, as the train runs only two days a month. Bounce Houses are welcome, and reservations are taken for $50 (for non-residents).
Rustic Canyon - Santa Monica / Palisades - Bucolic Coziness
601 Latimer Road
310.454.5734
This hidden gem in a Santa Monica canyon offers perhaps the most shade of any park in the city and plenty of picnic tables for vittles. A seasonal pool – open the third Saturday in June through Labor Day - is a terrific and underused amenity. Rustic Canyon also offers BBQs, basketball, baseball, tennis, and volleyball courts. Last time I was there I stumbled on a birthday party featuring a couple of giant parrots. The recreation center is available for rent as back-up, in case of rain.
Los Encinos - Encino - Culture
16756 Moorpark Street
818.784.4849
One of the historical parks in Los Angeles, Los Encinos boasts a colorful history that mirrors the city's own – from the Gabrielino Indians to the Spanish. It would make a terrific setting for a Mexican themed party with piñatas, confetti eggs, and pin the tail on the donkey. Two original buildings from the 1800s can be toured on the weekends from 10am-5pm (free). The park boasts more modern amenities as well, including BBQs, a duck pond, and shady picnic benches (first come, first served).
Will Rogers - Pacific Palisades - Cowboy Adventure
1501 Will Rogers Park Road
310.454.8212
Nestled in the Santa Monica Mountains, this park really feels like you're out in the country, right down to the grazing deer. With trails galore and horse rentals ($55 per person, minimum age 8 years old), Will Rogers would make a great venue for a Western birthday party – Woody and Jessie lovers rejoice! There are also plenty of shaded picnic tables, BBQs, and a gorgeous green lawn to lounge on, play duck duck goose, or even set up a croquet set. Reservations are available – 5 or 10 tables.
El Dorado Park - Long Beach - Boats
7550 E. Spring St
562.570.1773
Since the Echo Park Lake paddle boats have gone MIA, I have been searching for a replacement, and it turns out El Dorado Park is a wonderful alternative. You can actually rent a Boathouse Shelter with tables, and that comes with the use of 15 paddle boats that seat up to three. This package also comes with a Jumper House. Or you can rent boats individually for $8 per ½ hour. And if that's not enough
maritime activity for you, there is also a model sailboat area (radio controlled). The park has many other amenities including BBQs (first come, first served), shady picnic tables (both reservable and first come first served), an archery range, and two stocked fishing lakes.
Venice Beach Recreation Center - Venice - Surfs up!
1800 Ocean Front Walk
310.399.2775
For a picnic-type party (no picnic tables) with close proximity to a jungle gym, skate park, and live surfers, Venice Beach is the place to hang ten. The kids' play area has a view of the ocean and not a lot of shade, so bring extra sunscreen and, as the playground is not fenced in, make sure the adult/kid ratio provides enough childcare. There are no BBQs and no bounce houses allowed.
Griffith Park - Los Angeles - Merry-Go-Round
4730 Crystal Springs Road (Park Center between the zoo and
the Los Feliz park entrance)
323.665.3051 or 323.913.4688
For a Mary Poppins-themed birthday party, why not celebrate at Griffith Park's magical 1926 Spillman carousel? At the bargain rate of $1.50, kids could go a few times in the midst of other revelry. Chalk would be a great party favor, as kids could practice their sidewalk art. There are a lot of shade trees nearby, or you could find picnic tables in another section of the park with BBQs.
Malibu Bluffs Park - Malibu - Cool Breezes
24250 Pacific Coast Hwy
310.317.1364
A free park with a dramatic overlook of the ocean, this Malibu location will take your breath away. Breezy (and windy) all year round, this can be a great place to throw a party during the dog days of summer (which as we all know can extend into November). The park offers trails, a jungle gym, permits for BBQs, and picnic tables, as well as allowing bounce houses ($60-100). Shade is minimal.
Roxbury Park - Beverly Hills - Tea Party
471 S. Roxbury Dr.
310.285.6840
With Sprinkles nearby and the fanciness that is Beverly Hills floating in the air, why not have an Alice in Wonderland tea party? Roxbury offers lawn bowling and a croquet and putting green to complete the theme. Shaded picnic tables and barbecues can be reserved in advance ($14-27 per table). No Bounce Houses allowed.
Pan Pacific Park - Los Angeles - Film
7600 Beverly Blvd.
323.939.8874
Centrally located near the Grove, this surprisingly large park has two different reservable areas for parties. One is larger with a roof and near the play area. The other has a terrific view, no shade, and is up on a hill. Prices range from $140-$200, depending on the number of people. There are also gazebos available to reserve and many barbecues situated around the park. No Bounce Houses allowed. As for themes, might I suggest American Girl (nearby), Hollywood, or sports (baseball diamond, basketball courts).
Barrington Park - Brentwood - Bounce House!
333 S. Barrington
310.476.4866
Sometimes a bouncy house is all kids really want, and why not give them what they want? This park has a rentable fenced in lawn space ($100-$200) that allows for a Bounce House, or there are picnic tables with some shade available to the earliest bird. No barbecues are on site, but feel free to bring your own.
Originally published June 19, 2012