Water Feature: 10 Free Water Playgrounds and Parks with Splash Pads in LA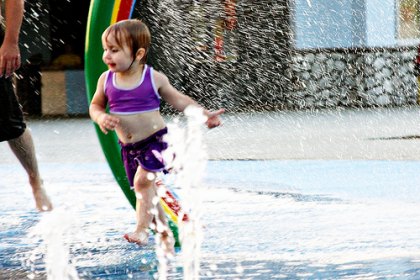 Remember those great summer afternoons running through a sprinkler with the neighborhood kids? Over in New England and Nebraska that's probably still happening, but in parched SoCal we really can't be turning on the hose to while away a lazy afternoon. Instead, packs of puddle-loving Angeleno kids splash through the heat at parks with free and fabulous water features, like the ones below. So if a pool or a water park sounds like too much work today, cool those kids down at a splash pad!
If these aren't close by for you, try our list of splash pads in Orange County.
Please note that drought conditions in 2015 are causing some parks to close their water features without notice. We are doing our best to keep the info below up to date; we hope that you won't encounter a closed facility, but if you do, please let us know in the comments section below.
Stoner Park – West LA
1835 Stoner Avenue
June 6 - September 7, 2015
Although technically a pool, this facility offers a whole lot more fun than that word encompasses. A gradual entry the length of the pool that makes it feel more like a shore than a pool, and the giant sprinkling mushroom, walls of water, and other spraying features in the shallows are non-stop fun. There is a formidable waterslide, too, for kids old enough to indulge (48" and 7 years old). Hours can be persnickety; always check before heading out. Kids are free; adults pay $2.50 (or $2 with an LA library card).
Note that rules at Stoner are strict: adults must wear bathing suits whether or not they intend to swim, or else wait outside the gate; kids under 7 must have an adult in the water. Also, the water is pretty cold, so save this one for a sunny day.
Aidan's Place – West LA
1350 Sepulveda Boulevard
All year
One of LA's high-profile universally accessible playgrounds, Aidan's Place was created by the same foundation that gave us Shane's Inspiration. The water feature here is a series of misters connected to the play equipment, unique in that it is fully accessible for kids with disabilities. Note that there is very little shade at this playground, and it can get pretty hot. Free.
Virginia Avenue Park – Santa Monica
2200 Virginia Avenue
May - September
Usually in action from Memorial Day (at the latest) to Labor Day (at the earliest), this splash patio is a big favorite. The water splashes up, across, and around in all sorts of ways, alternating between features to keep things lively. There is shade, and the park is a very manageable size for watching multiple kids, both in and out of the water. Free.
Annenberg Beach House – Santa Monica
415 Pacific Coast Highway
All year
It might sound too obvious to point out a water feature at the beach, but Santa Monica's public beach house has a free and inviting splash patio. Although there's no shade here, the patio does have several tables and chairs that make it a good spot for a picnic lunch. Be warned, though, that there is a pool on the other side of the fence that costs $10 – or a beach, of course, that's free!
Tongva Park – Santa Monica
1615 Ocean Avenue
May-September
It may seem lopsided to add yet another Santa Monica park to the list, but the beach city's newest park is fast becoming one of its most popular. The splash/spray pad is part of the small but well designed play area, with padded ground, some shade, and tables. The rest of the park has inviting fountains not for playing, and a man-made paddling stream for cooling little feet. And all an easy walk from the Pier and the Promenade. Free.
Coldwater Canyon Park – Beverly Hills
1100 North Beverly Drive
All year
Not to be confused with the larger Coldwater Canyon Park up on Mulholland, this park is in Beverly Hills proper, across from the fire station where Beverly Drive merges with Coldwater. The water feature here is a little man-made creek for kids to paddle and splash in – gentle and low-key, but very popular on a summer day. Free.
Pacific Park – Glendale
501 S. Pacific Avenue
June - Sept
Glendale's downtown Pacific Park does its bit to keep kids cool on hot Valley days with its splash pad and water play area. Shade is a bit scarce, but the air-conditioned library is adjacent in case of need. Free.
Panorama Recreation Center – Panorama City
8600 Hazeltine Avenue
June 13 - Sept 7, 2015
The seasonal splash pad here is full-on, with water spraying in every direction and a floor which is more wading pool than patio. Bathing suits are required, and diapers are not allowed. Shade is pretty limited. Free.
Sylmar Park – Sylmar
13109 Borden Ave.
June 13 - Sept. 7, 2015
Sylmar's free splash pad, adjacent to the recreation center and pool (free for kids, $2.50 for adults), lures kids on a hot day with tree-shaped sprinklers, a spraying whale, and a variety of fountains that drench and delight. Free.
North Hollywood Recreation Center – North Hollywood
5301 Tujunga Ave.
June 13 - Sept. 7, 2015
The splash pad here is adjacent to the swimming pool, which means adults and children alike need to don bathing suits, and adults pay $2.50 to be present as kids dowse themselves. On the up side, the plentiful fountains are worth the visit, and kids are always free.
La Pintoresca Park – Pasadena
45 E. Washington Blvd.
May - Labor Day
2015 UPDATE: Water feature closed at this park for the remainder of the summer
The colorful splash pad in the center of La Pintoresca Park is surrounded by benches where adults can relax just outside the reach of the spray, which is turned on from Memorial Day to Labor Day. If the water isn't flowing, try hitting the start button on the east side of the spouts. The patio itself has no shade, but shady trees are within reach. Free.
Holmby Park – Westwood
601 Club View Dr
All year
2015 UPDATE: Water feature is temporarily closed 
Tucked between UCLA and Beverly Glen, Holmby Park is a shady spot to head for on a hot summer day. Kids can splash and play in a small waterfall and man-made stream that run all year, with longer hours during the summer months.
Plus three bonus splash pads our readers told us about:
Grand Park - Downtown
200 North Grand Avenue
Open Saturdays in August - Free
Saint Andrews Park and Recreation Center - South LA / Inglewood
8701 St. Andrews Pl.
Open daily, June 13 - Sept. 7, 2015
Free
Alondra Park - Lawndale
3850 W. Manhattan Beach Boulevard
The park's website (and the reader who commented below) lists a splash pad at this park. Unfortunately the park's phone is not manned, and the website offers no dates, so we can't say when this feature opens for the season. Looks nice, though!
Originally published August 13, 2011