Things To Do New Year's Eve with Kids in LA and OC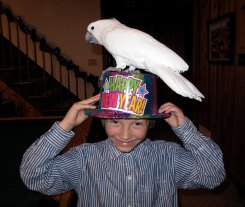 Should old acquaintance be forgot? Maybe they should, when seeing them on New Year's Eve costs $20+/hour in babysitting fees. Far better to find some fun that can be shared with the kids, and see those old acquaintances some other night. LA rings in the new year in fine family fashion from noon to midnight and beyond; check out some memorable outings on our radar...
1. Skating
Woodland Hills Ice and Ice at Santa Monica both host all-day-and-into-the-night family skating celebrations to ring in the New Year al fresco, while Skating Plus invites kids and teens to roll into 2015 with both an afternoon and an all-night skate party.
2. Noon Year's Eve
Local children's museums Kidspace and the Discovery Science Center OC and new Discovery Cube LA celebrate with balloon drops, live music, sparkling cider, and a count down to 2015 at 12:00 noon instead of midnight. Similar noontime celebrations take place at La Habra Children's Museum, the Green Bean, and Pretend City.
3. Knott's New Year's Eve
We feel the same way - it's Knott New Year's Eve already, is it? But apparently it is - and happily the Knott's New Year's Eve party definitely is a party, with family entertainment everywhere you look, all day and way into the night. We did this last year and had a ball; and by the time it started getting really crowded, the kids were ready to call it a year anyway.
4. Cele-brick-tion
Legoland hosts its annual gala celebration, culminating in a brick ball drop at 6:00pm followed by fireworks.
5. Family Festival
Shoreline Village in Long Beach offers a free, early evening, family-friendly celebration featuring all manner of entertainment for kids. The ball drops at 9:00pm, timed to coincide with the east coast, and sensible bedtime.
6. Flamenco
What, your family doesn't go out and watch flamenco together? Well what better time to start! El Cid restaurant in Silver Lake is offering two seatings of its 51st annual New Year's Eve Flamenco Dinner Show, and the 5:30pm slot is particularly welcoming of families. Olé!
7. Jousting
If not flamenco, how about some good old-fashioned fighting? No, really, old-fashioned - as in knights in armor jousting and clashing broadswords? Medieval Times Dinner Theater has a family-friendly New Year's Eve bash planned (with the emphasis on bash).
8. Skiing
Snow bunny families ring in the new year with a day of skiing, culminating in Mountain High's annual Torchlight Parade at 6pm. Staff light up the slopes by skiing and snowboarding down the trails with flaming ski poles, to magical effect.
9. Fireworks
Kids who can make it till midnight can huddle close to their parents in the crisp night air and enjoy fireworks over the Queen Mary in Long Beach  - or up above Universal Studios when the grown up bash on City Walk reaches its climax.
As always, there are plenty more options on our daily events calendar!
Originally published December 28, 2011