Snow Schools and Ski Lessons for Los Angeles Kids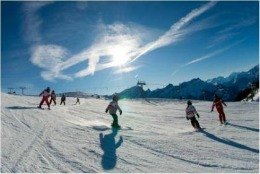 On a clear day, as you head east in Los Angeles, you see them beckoning: those glorious snow capped mountains. If only we had bionic vision (don't you wish sometimes?), we could watch skiers sashaying down the hills. The resorts are that close. And, if you and your kids are new to skiing or snowboarding, you'll be happy to know they all offer lessons.
So, this winter, if you're looking for additional outdoor activities for your kids (of course there's still time to try skating and sledding), why not give them ski or snowboarding lessons? We've compiled a list of area slopes that offer classes and camps for kids and adults, from beginners to the more advanced. Have a look at the locations, prices and schedules. Thankfully, the mountains are so close, and yet (not) so far away!
Just remember, weather and road conditions may change daily especially as you climb to higher elevations. Always check before you go, to make sure roads are passable, and to determine if you need chains. Also, think about what to wear to stay comfortable. It's no fun feeling wet and wind-whipped on the chair lift. Lastly, most resorts increase their rates during peak week-ends and holidays. Make note of these special times to avoid unexpected rate hikes.
Mountain High
24510 State Highway 2
Wrightwood, CA  92397
888.754.7878
Directions
Heralded as LA's closet ski resort ​with no mountain driving​, Mountain High is a sure bet for family skiing. Check out the Children's Learning Center (and check out our review of it) where "fun is a priority" for kids ages 1-12. The resort offers both half and full day group lessons (full day is recommended for optimum skill building). Private lessons are also available. Mountain High is one of the few destinations that offers lessons for toddlers. Children ages 1-3 learn safely through Mountain High's simulation training in the Virtual Snow class. Adult lessons are also offered, on a first-come-first-served basis. It is recommended that you arrive at least one hour prior to your preferred class time.
For ongoing classes, Mountain High offers the Blue Angel Youth Ski and Snowboard Program for kids of all skill levels, ages 7-16. This five week camp (meets every Saturday) provides luxury charter bus transportation from several Southern California locations to the mountain. Full day classes are taught by professionally trained instructors. 
Big Bear Mountain Resorts
A mere 100+ miles from Los Angeles awaits Big Bear Mountain Resorts. Choose from two distinct ski areas within two miles of each other: Snow Summit "offers a traditional alpine atmosphere" while Bear Mountain boasts a more youthful environment. Both offer ski and snowboard classes. 
Snow Summit
880 Summit Blvd
Big Bear Lake, CA  92315
909.866.5766
Directions
If your kids are new to skiing, Snow Summit might be your place. Always check the discount page for current deals and packages. Choose from a variety of 2 or 4 hour lesson options. For the non-beginner (and after January) rentals are only $14 (for kids ages 4-12) with purchase of a lesson package.
Adult lessons for skiers and riders 13 and older are also available.
Bear Mountain
43101 Goldmine Drive
Big Bear Lake, CA  92315
909.866.5766
Directions
Nearby Bear Mountain claims to provide "the largest beginner area and the most innovative and most progressive terrain parks in Southern California." Now there's something to consider! Lesson packages and prices are the same as those at Snow Summit.
Bear Mountain also offers Bear Camp from 10am - 4pm on Saturdays or Sundays for Intermediate through Advanced level snowboard riders 8 and older. Seasoned Bear Mountain coaches provide video analysis to help riders improve their tricks and techniques. Helmets are required. Make reservations by calling 909.866.5841, or sign up upon arrival.
Mt. Baldy
8401 Mt. Baldy Road
Mt. Baldy, CA  91759
909.982.0800
Directions
Only 50 miles from downtown, Mt. Baldy is just around the corner and so might make for the simplest ski outing. Prices are usually reasonable, and the Mount Baldy Chamber of Commerce sometimes offers deals. Equipment rentals are not included.
Variable snowfall levels and limited snow-making capabilities mean conditions are less reliable at Mt. Baldy than at some other resorts. But when conditions are right, locals claim that Mt. Baldy has the steepest vertical drop in Southern California, the shortest lines, and a favorable old fashioned charm. While convenient and cost-effective, Mt. Baldy might not be the best choice for the littlest first-time skiiers, since a steep, gusty ski lift must be braved before touching snow.
(Trivia buffs might be interested to know that Mt. Baldy is merely a nickname. The mountain's real name is Mt. San Antonio, and it's the highest peak in the San Bernadino Range.)
Snow Valley
35100 State Highway 18
Running Springs, CA  92382
909.867.2751
Directions
Less than 100 miles from downtown, Snow Valley is a day trip do-able ski and snowboard destination. The resort's Children's Learning Center treats skiers and riders ages 4-12 to small class sizes that emphasize fun. Choose from a full day program and lunch, or a half day program with no lunch. Equipment rental is just $8 with class registration. See rate schedule for additional details.
The Adventurers program works with kids ages 4-6. Small class sizes enable instructors to focus on individual needs and abilities. (Note: Kids 5 and under must learn to ski before taking snowboarding lessons in the Adventurers program.)
The Explorers program is for kids ages 7-12 with varying skill levels. Beginners build confidence by starting on an easy-to-load conveyer lift.
Learn to Ski or Snowboard packages are also available for skiers and snowboarders ages 13+. Packages include rental equipment, a 1.5 hour group lesson and a lower mountain lift ticket. Skiers and riders ages 13+ who are ready for a greater challenge can opt for either the Lift N Lesson Package or the Learn to Freestyle Package.
Last but not least, check out Virtual Snow in Santa Monica where you can forget the snow pants and goggles. Learn to ski or snowboard (or improve your existing skills) on state-of-the-art indoor simulators (also located at Mountain High). All ages and levels are welcome. (Note to self: they also host birthday parties and summer camp.) 310.264.4800.
Originally published January 6, 2012