Great Summer Horse Riding Camps near LA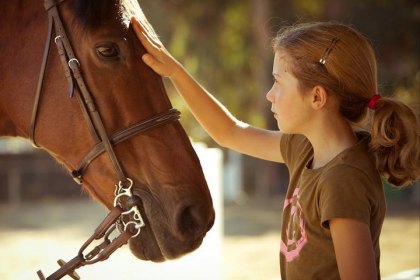 It's hard to believe that only a few decades ago many LA kids could pat and even ride horses in their own neighborhoods. My friend who hails from Brentwood remembers feeding carrots to front yard horses just blocks from the now bustling and trendy San Vicente Blvd. Wouldn't that be nice? If you have a little rider-wanna-be but no riding ring next door, don't despair: there are many summer camps right around the corner. Along with our recommendations for the LA area's best art camps, classic outdoor summer camps, science camps, and cooking camps, we offer our picks for LA and Orange County's best summer horse riding camps. (Be sure to check our camp guide periodically for more camp categories being added all the time!)
Callie Bell
40 Narcissa Dr.
Rancho Palos Verdes, CA 90275
310.375.9322
Mon-Thu, 9am-12noon or 1pm-4pm
Ages 7+ (Tots Camp for ages 3-6)
A little horse care, a lot of riding practice, and even more fun fills the half day classes at Callie Bell. Little riders ages 3-6 are also invited for two special weeks. All campers receive a workbook filled with information about horse safety and anatomy, as well as puzzles and games. Feel free to meet the horses before heading to camp.  Online registration is available (scroll down the site for 2012 details).
D&D Stables
11127 Orcas Ave
Lake View Terrace, CA 91342
818.584.4524
Tues-Fri 9am-4pm, aftercare available until 6pm for $15/hour
Ages 6+
Riding, grooming, tacking, and cleaning, not to mention fun; D&D Stable's family-feeling camp has it all. Sandrine, the director, is a credentialed teacher and offers academic supplementation during the day if parents so desire (French is her native language, and language lessons are an option). All riding levels are welcome. Days are full and varied. Spring horse camp information is now available online; check back on the camp's site for summer camp details soon.
Elvenstar
15618 E. Tierra Rejada Rd.
Moorpark, California 93021
805.529.2800
Mon-Fri 8am-4pm, aftercare available until 5pm
Ages 7+
Elvenstar offers a full-day, action packed camp all summer long. Visits from vets and farriers (horse shoers) supplement the already rich formal morning lesson and afternoon fun and games (that help reinforce the lessons). Your children will know their stuff when they complete one session or more. Fridays offer either a pony parade (you're invited) where campers get to decorate and parade a horse, or a horse show where they get to show off their skills. All levels are welcome.
Enterprise Farms
3919 Rigali Ave.
Los Angeles, CA 90039
323.665.8977
Mon-Fri 9pm-4pm
Ages 6+
For more than 20 years Enterprise Farms has offered a fun-filled quality summer program right in the heart of LA (just east of Griffith Park). Hands-on with the horses, time with friends, arts and crafts, games, and lots of learning round out the full days here. Registration begins in early Spring.
Hayden Show Jumping and Riding School
25202 Nellie Gail Road
Laguna Hills, CA 92653
949.448.0823
Mon-Thurs 8:30am-1pm
Special weeks in July and August offer morning, afternoon or all day options. See schedule.
Ages 5-12
Ready for some full half-days? Camp time includes instruction and practice in horse care, grooming, terminology, different riding styles, horse breeds and characteristics. Watch riders train and jump horses. And hop aboard yourself whether you are a beginner or have some riding experience. Most instruction is in the English Riding style, though Western saddles are available.
Los Angeles Children's Riding Center
9211 Del Arroyo Dr.
Sun Valley, CA  91352
818.768.5470
Ages 6-14
9am-4pm
Nestled under pepper trees in the lovely La Tuna Canyon is Los Angeles Children's Riding Center, a 10 acre facility that has been teaching horse riding lessons since 1977. All aspects of horsemanship are covered, and riders of all levels are welcome. Riders return year after year, and some go on to become junior counselors. It just feels like family here, and campers love that.
Mill Creek Equestrian Center
1881 Old Topanga Canyon Road
Topanga Canyon, CA 90290
310.455.1116
Tue-Sun, specific days and hours depend on age and level of camper (no classes on Mondays)
9am-12noon ages 6+
9am-2pm ages 9+
Group English Saddle camps are offered at Mill Creek all year on weekends and extend into the week all summer long. The rich instruction focuses on proper horsemanship, correct use and care of the riding equipment, and developing responsibility, appreciation, and love for the horses. All new campers must have a private evaluation before registering. All beginners must take a minimum of 4-6 private lessons before participating in group camp classes.
OC Horse Play
10942 Meads Ave.
Orange, CA 92869
714.425.8150
Ages 8+
Mon-Fri 9am-1pm
New digs for OC Horse Play means an Olympic size arena. Wow! And camp here means fun and interesting games and lessons that introduce riders of all levels to proper horsemanship: animal care, tack, grooming, ground work, leading, and riding. Crafts and snacks are included.
Riding Academy of Orange County
7741 E. Santiago Canyon Rd.
Orange, CA 92869
714.744.8120
Mon-Fri 9am-1pm
Ages 5+
Younger riders learn the basics in a fun and safe hands-on environment. And riders 11 and up who have previous riding experience can hit the trails in the Santiago Regional Parks district. Advanced beginners and intermediate campers can also opt for the Horse Show camp to broaden their horse show experience, or learn to jump at the English Jumping Camp. Call for a schedule and to reserve a spot.
Rustic Canyon Ranch
12100 Browns Canyon Road
Chatsworth, CA   91367
310.686.8566
Mon-Thur 9am-3:30pm
Ages 6+
If you're looking for a gentler, quieter environment, have a peak at Rustic Canyon Ranch; this is not your typical riding camp. Kids spend full days with rescue horses, exploring the relationship between horse and human, and learning to build mutual respect with the animals. Ideal for kids nervous around horses, or who have had a bad experience with a horse in the past. The camp experience gently builds confidence, love, and connection.
San Pascual Stables
221 San Pascual Ave.
South Pasadena, CA 91030
323.258.3999
If you're a resident of South Pasadena, read on. San Pascual, a public equestrian facility, offers summer camp in conjunction with South Pasadena's Parks and Recreation Department and offers a discount to residents. Campers love learning to groom, ride, and bond with the stables' majestic boarders. As we publish this, summer 2012 details are still to be determined.
Silver Horse Healing Ranch
Callon Drive (between Cheney and Sylvania Lane)
Topanga, CA 90290
310.466.3955
Mon-Fri 9am-12noon
12% sibling discount
Ages 6+ (younger students welcome if there is a demand)
Perhaps your child enjoys horses but is somehow intimidated by a typical equestrian facility. Perhaps he or she has fallen from a horse, or been kicked, and loves horses but now fears them. If so, Silver Horse Healing Ranch may be your place. Diva, Laydee Lucille La Don, Silver, Ruby, Jackie, Hank, and Pretty Boy are all rescues, previously headed for slaughter because they had outlived their usefulness. They now live happily (and are more than useful) at the ranch, and they welcome those wishing to gain confidence, feel comfortable, learn to bond, and feel part of the horse pack. Riding is gentle and bareback (soft bareback pads with handle).
Traditional Equitation School
480 Riverside Drive
Burbank, CA  91506
818.569.3666
Ages 6-12
Mon-Fri, 9am-4pm. Extended care available for an additional cost
The intention of the Traditional Equitation School is to teach riders to be true horsemen. This includes not only learning to ride, but to tend to and take good care of the animals. The kids camp is designed for all levels. Trained instructors and counselors help develop horsemanship skills through games and activities both on and off the horses.
Originally published February 18, 2012