Spring Break Camps: 11 Kinds of Vacation Fun for LA Kids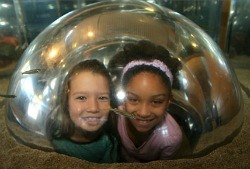 Spring Break around Los Angeles is a moving feast; some districts have one week, and some have two. Some take vacation in March, and some in April. Add to the mix the complications of Easter, Passover, and parent work schedules, and Spring Break camp can be a tough knot to untie. Whether your family needs two weeks full time or a day here and there, we've chosen ten of our favorites that run the gamut. From Orange County to Woodland Hills, gymnastics to theater, ocean cruises to soccer, we think you'll find something worthy of a few days away from school among the camps below. And if you're so on the ball that spring is already covered and you've moved on to summer, check out some of the art, cooking, horse, and classic outdoorsy camps in our Summer and Vacation Camp Guide!
Blue Starz
14330 Ventura Blvd
Sherman Oaks, CA 91423
310.880.4553
3/30/15-4/3/15
9:30am-12:30pm or 10am-3pm
Ages 3-9 
$$
This spring break, little ones can perform at a camp revolving around Frozen, Cinderella, Superheros, and more - belting out songs they probably already know.
Broadway Gymnastic School
5433 Beethoven Street
Los Angeles, CA 90066
310.302.0035
3/23/15-4/10/15
9am-3pm (before & after care available)
Ages 3.5-12
$$
Broadway Gymnastics has been around a while, and its camps get great parent reviews on both fun factor and value for money. New students are invited to attend one free class before camp to help things feel familiar on the first day of camp. Also, be sure to ask about the Bring a Friend Day; one day of spring break camp is often designated as a day to bring a friend for free!
Camp Santa Monica
John Adams Middle School
2425 16th Street
Santa Monica, CA 90404
310.458.8540
3/30/15-4/10/15
8:30am-5pm (extended care available 7am-6pm)
Ages 8-14
$
Camp Santa Monica offers an affordable option for parents who work long hours (with financial aid available as well). Kids sign up for one of four themes - either science, arts, fitness, or water activities (water adventure camp is held at Lincoln Middle School). Discounts are available for Santa Monica residents.
Got Game Sports
Hancock Park Elementary
408 S. Fairfax Ave.
LA, CA 90036
3/30/15-4/3/15
9am-3:30pm (extended care available)
$$
Most days Got Game campers are at Hancock Elementary, playing a variety of sports (they get to select their favorites) out on the field. Field trip day, however, the whole gang packs up and heads off to Ultra Zone for a day of laser tag!
Kids on Stage
1227 4th Street
Santa Monica, CA 90401
3/30/15-4/10/15
9am-2pm
Ages 4-14
$$$
Little dramatists can spend a week or more over spring break creating a work of performance art in the company of Kids on Stage. Younger kids do a "play of the day," and older kids focus on scene work; either approach allows for purchasing camp by the day as well.
Ocean Institute
24200 Dana Point Harbor Dr.
Dana Point, CA 92629
949.496.2274
Date: 4/7/15
9am-4pm
Ages 6-12
$$
This may only be a day of camp, but the programs at the Ocean Institute are so wonderful that even just a day is worth shouting about. Little kids (6-8) get to explore tide pools, interact with sea critters, and even take a boat ride out to the harbor to see the sea lions. Bigger kids (9-12) enjoy all of the same plus a two-hour Marine Wildlife cruise aboard the R/V Sea Explorer and a chance to operate a ROV. This is serious marine science in action!
Paint Lab
1453 14th Street
Santa Monica, CA 90404
310.450.9200
Dates: 3/24/14-4/18/14
9am-4pm
Ages 5-12
$$
Kids can roll up their sleeves, pull up an easel, and paint a day (or half day) full of masterpieces with instruction from Paint Lab's pro artists; be ready to make some room on the wall at home. We love the level of artistic instruction that goes on at Paint Lab - and we really love that we can be spontaneous and  call the day before to book a day of art camp. Discounts are offered for siblings or when booking a whole week. Mommy Poppins readers get a 10% discount just for mentioning Mommy Poppins!
Prime Time Sports Camp
Daniel Webster Middle School
11330 West Graham Place
Los Angeles, CA 90064
or
Ivanhoe Elementary School (Silver Lake)
2828 Herkimer St., L.A., CA 90039
310.288.4132
Dates: 3/30/15-4/3/15
9:30am-3:30pm (extended care available)
Ages 4-14
or
New locations in Hancock Park & Woodland Hills
$
Prime Time is a great day camp for sports fanatics, offering a spring break camp that covers a variety of different sports run by a team of coaches, educators, and sports pros. Focus is on building self-esteem and confidence while training kids in more than ten different team sports. Art options are also available.
Studio LOL
12434 Moorpark St.
Studio City, CA 91604
818.660.3460
Dates: 3/30/15-4/3/15
9am-2pm
Ages 7-12
$$
Spring break ought to be a laugh, right? The week-long camp at Studio LOL offers kids a chance to focus on building confidence, communication, and performance skills through improv, sketch comedy, and working to find the "funny" in their daily lives. The camp culminates in a performance for parents at 1pm on Friday.
Venice del Play Beach Camp
2400 Barnard Way at Ocean Park.
Santa Monica, CA 90401
310.821.7377
3/30/15-4/3/15
Mon-Fri 9:30am-2:30pm (extended care available)
Ages 4-11
$$
Venice del Play hosts a wholesome beach camp down by Ocean Park Beach Playground, building a day by the sea around yoga, boogie boarding, large scale sand sculpting, and daily extra activities that include gardening, breakdancing, and Capoiera. Ocean safety and caring for the environment always get plenty of attention at this camp, and sunscreen is liberally slathered throughout the day.
Youth Academy of Dramatic Arts (YADA)
8115 West 3rd Street
Los Angeles, CA 90048
323.655.9232
3/23/15-4/10/15
Mon-Fri 12:30pm-3:30pm
Ages 6-15
$$
YADA offers half days of improv for kids, over spring break, encouraging campers to ham it up and learn new skills through creative theater games that keep them thinking on their feet. Each session is one week long and ends with a showcase performance.
Originally published March 6, 2013