Christmas Light Displays and Dazzling Holiday Decorations around Orange County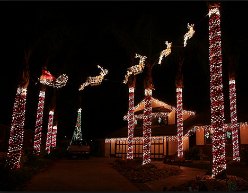 It's time to flip the on-switch for Orange County's annual show of over-the-top holiday light displays, which are at least as extreme as the ones in LA. From the north end to the south, Orange County boasts a number of spark-tacular holiday adventures to walk or drive through. Some are individual homes; some are entire neighborhoods, and let's not forget one illustrious Boat Parade. All in all, you and yours can take joy, with oohs and ahhs, in the mega-watt experience sans the hefty Edison bill. So, pack up your gloves, scarves, hot chocolate, and flip-flops. Pile in the car and take a drive to see a bounty of wintry wonderland lights.
Candy Cane Lane – Rancho Santa Margarita
Every year El Corzo Lane transforms from a quiet suburban cul-de-sac into the magical Candy Cane Lane of RSM. There are lights galore, snow machines, music, gingerbread houses, lighted Santas, and animated reindeer. El Corzo is the main attraction but a number of side streets take part as well.
Located near the 241, just off Melinda Road. Park on Las Fieras and take a walk to explore.
Eagle Hills Community – Brea
Eagle Hills goes all out showcasing about 100 homes in dazzling lights and holiday adornments. You can walk or drive through to see this neighborhood's 30+ year tradition of wonderment. Some of the residents even open their homes for visitors to take a look at the festive decorations inside.
Enter on East Birch and South Starflower Streets or East Lambert Road and Sunflower Street. Don't miss the homes on Primrose Street for the most incredible displays.
King Eider Curbside Forest ​– Aliso Viejo
This cul-de-sac community has a reputation for shimmering lights and a spectacular spirit of hospitality. Neighbors give out cookies, cider, and cocoa to visitors passing through. They also welcome non-perishable food items to benefit South County Outreach. Although the website doesn't yet have 2015 info, the street generally starts its display Thanksgiving weekend and continues every Friday through Sunday evening until New Year's Day.
Located near the intersection of El Toro Road and Aliso Creek Road.
Blount Family Walk-Through – Laguna Hills
The Blount family has been gifting Laguna Hills with a holiday show of 120,000 lights choreographed to 12 songs for the last five years. But the fun doesn't stop there; they also invite visitors inside their home for warm cider and a viewing of Mrs. Blount's Christmas Village Wonderland. The show launches on Thanksgiving night most years and runs Tuesdays through Sundays until Christmas night (including Christmas Eve) from 5pm – 9pm; 2015 dates have not yet been confirmed The Blounts collect new, unwrapped toys for the Firefighters' Spark of Love Toy Drive on Friday nights.
Located at 25473 Nellie Gale Road in Laguna Hills.
Lorenz and Norris Family Displays – Lake Forest
These neighboring homes come together every year to synchronize more than 80,000 lights to music that visitors can listen to over a car radio (FM 89.7). The Lorenzes and Norrises are proud to be the only OC neighborhood to achieve such a fantastic light-displaying feat! The families collect food for the Second Harvest Food Bank of Orange County to help others this holiday season. The displays run from November 27-December 31,  Sundays through Thursdays from 5:30pm–10pm, Fridays and Saturdays until 10:30 pm.
Located at 22981 Belquest Drive in Lake Forest. 
Christmas Boat Parade – Newport Beach
2015 marks the 107th Christmas Boat Parade in Newport Beach (the oldest - but not the only!). Illuminating yachts, boats, kayaks and canoes sail along the harbor for five nights, while listening to cheery holiday music. Special opening and fireworks displays take place next to the Balboa Pier at the start and finish of the parade, which runs from Wednesday, December 16-20, 2015. The parade starts off Bay Island at 6:30pm and finishes at the same site around 9pm each evening. The beginning fireworks show is on Wednesday, December 17, at approximately 6:20pm. The ending fireworks show is on Sunday, December 20.
Located at the Newport Harbor; there is street parking along the parade route and in all city parking lots. Be sure to allow extra travel time to find parking.
Holiday Lights – Dana Point
Last year's grand scale IlluminOcean display is alas not returning, but local merchants plan on doing their best to come up with something as close as they can to that level of glow. And the fabulous two-weekend boat parade still brings its Christmas light joy to families out for a dockside wander.
Zimmerman House – Balboa Island
**The Z House is taking a break in 2015.**
The Zimmerman House is the Christmas light celebrity on Balboa Island. The house is fully equipped with drifting snow, a helicoptered Santa, a lighted train, a 25-foot Christmas tree, and much more. Winning numerous impressive awards is the absolute norm for this brilliant display of radiance. The home features more than 24,000 lights in all, computer programmed to 10 merry holiday songs. Light shows run every night of the week from 5pm–9pm.
Located at 327 Sapphire Ave. on Balboa Island.
Post originally published December 3, 2013