CHILL at the Queen Mary in Long Beach: An Icy Holiday Tradition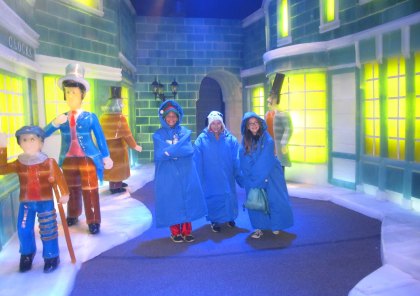 And now for something completely different.
We're fortunate in the Southland to have a wonderful variety of traditional holiday events each season; LA families can take in Christmas lights, boat parades, Nutcracker performances, and even outdoor ice skating rinks. But for the past three years our warm blooded kids have been able to experience something even more unusual—something, dare we say, completely different. Perhaps you've heard people talk about CHILL at the Queen Mary and can't quite work out what it is. Or maybe you think chill is something that can only be done with a board in hand. Either way, CHILL is a great reason for a family drive to Long Beach, where you can experience ice in ways you've probably never imagined.
CHILL is a multi-event happening that entirely centers around ice. The Queen Mary's holiday set-up lets you skate on ice, slide on ice, tube on ice, and walk through a world constructed entirely of ice. The central attraction is the Ice Kingdom—an indoor pavilion chilled to less than 10° Fahrenheit—where enormous ice sculptures await. It's hard to imagine, much less to describe, the magnitude of this display, which takes visitors on a chilly wander through a themed winter dreamscape. The 2015 version tells the story of Charles Dickens' A Christmas Carol, with Victorian streets, ghosts of Christmas past, present, and future, Tiny Tim, and plenty o' Scrooge. Annual ice sculpted features return also, including an icy reproduction of the Queen Mary herself and a set of slides constructed entirely from blocks of ice to keep kids' blood pumping in the arctic atmosphere. Needless to say, there are oodles of photo ops at every turn.

A tunnel entirely built out of ice shows that igloos really do keep warmth in.
The temperature itself is a novelty to SoCal kids, and the beauty and scale of the sculptures is the stuff that dreams are made of. Bring your warmest winter clothes, but don't worry if your coats aren't designed for polar expeditions; everyone is handed a full-length parka at the door. Don't even think of skipping the parka; there's a lot to see, and without the arctic gear you won't last more than 5 minutes in the Kingdom. Gloves and hats help to make a longer visit possible, too. Ice Kingdom admission is included with all tickets.

Tubing!
Sharing a pavilion with the Ice Kingdom is another frozen attraction, ice tubing. A tall ramp covered with a sheet of ice is set up for flying down on an inner tube, with friendly staff to help the process go smoothly and to push the tube at a thrilling speed. The ice tubing is also an indoor activity, but not in the deep freeze zone; a light jacket is warm enough to enjoy sliding down the hill. This year's tickets all include unlimited trips down the tubing hill. Opening weekend there was virtually no waiting at all, but if the line gets bad later in the season, an Elf Pass ($15 extra) acts as a front-of-line pass.
The third icy attraction at CHILL is the outdoor skating rink. Seasonal ice rinks are a familiar sight around LA at Christmastime—more spring up every year—but this is the only ice rink we've seen that is set up slam against the side of a vintage ocean liner. The view is breathtaking. Treats this rink offers as add-ons include luxurious cabanas with sofas and fireplaces, and penguin-shaped walkers for beginning skaters to lean on. The rink is smaller than some local pop-up rinks, but the ice is good, and the ambiance can't be beat. Skating costs $15 extra (including skate rental), which helps to keep the crowds down, and guests must book for a specific 45-minute session.

Chilling with penguin...
Kids wanting a visit with Santa can stop in to chat with the whole Claus family in their cabin—Mr. & Mrs. Claus and a chatty elf. Only purchased photos with the trio are allowed (no selfies) but I do have to give the performers credit; they really spend time with each child and offer a lovely memory whether or not you buy a photo.
New this year is a Polar Paintball session; for $10 extra visitors can fire paintball at targets, and an occasional Yeti who darts in and out among the targets. Other extra attractions include wandering performers and stage entertainment (we saw storytelling, costumed characters, and carolers) as well as a photo-op candy cane lane to wander, a giant ride-on rocking horse, a bounce house, and the giant swing ride from the Neverland Ranch ($5 extra, or free with Elf Pass). There is also a gingerbread house station, with different price options available. Food is typical amusement park type fare (and prices), and there is a full Victorian style pub to warm up chilly adults' insides.
All told, a family can easily spend an entire day at CHILL and find plenty to do—and then stay into the evening to enjoy the breathtaking light displays. Spending a whole day and participating in all of the fun ranges from $35-$50 for adults and $25-$40 for kids, depending on the date. Elf Passes (front-of-line) cost $15. Figure in parking ($20), or plan ahead to look for parking farther away (Long Beach has a free bus service that can help with creative parking). Purchasing tickets online generally costs $5 less. There are also plenty of deals to be had from local deals websites, so keep your eyes peeled.
CHILL opens at 5pm on weekdays and 10am on weekends and holidays; watch for it to open at 10am during winter break. Evenings it's open until 10pm most nights, and the nighttime lights definitely make it worth staying after dark. The best game plan if possible is to come early in the day to enjoy the most popular attractions, since the bigger crowd seems to arrive close to sunset.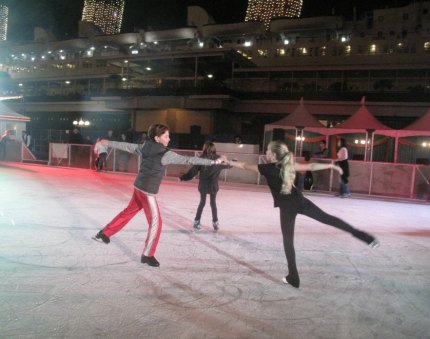 CHILL at the Queen Mary is open every day - including Thanksgiving and Christmas Day - November 20, 2015 until January 10, 2016.
Originally published November 22, 2012, with updates each season