Best Neighborhoods to Trick-or-Treat for Los Angeles Kids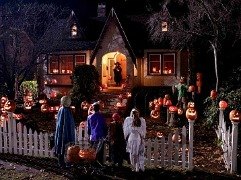 Los Angeles moved from second to third place this year in Zillow's annual list of the country's 20 best cities for trick-or-treating—but that's not slowing down anyone around here. The real estate website bases its trick-or-treat ranking on criteria like home value and crime rates. That's good, but what about special effects and Halloween decorations? If one figures in the number of film industry creatives living in a given metropolitan area, LA wins first place by a country mile. Speaking of country miles, if you've walked the distance between houses in the most expensive LA neighborhoods, you know that higher home value does not always translate to better trick-or-treating. What does? Well, keep your Halloween hats on, because we've got a list of some of LA and Orange County's most legendary trick-or-treat neighborhoods. I defy anyone in San Francisco to beat these!
Wherever you plan on trick-or-treating, please carry lights and watch out for traffic. And if you're visiting a neighborhood that isn't your own, please be extra considerate about candy wrappers and other litter on the ground. The residents of all of the neighborhoods below show tremendous generosity each Halloween; we don't want them to wake up to their lawns looking like Staples Center after a play-off game!
Subscribe to our free weekly newsletter to keep up with all of the Halloween fun coming up this season!
Larchmont / Hancock Park
If you live within range of Larchmont and Hancock Park, then Windsor Square is where to head. This area - often confused with Hancock Park - runs from Wilshire to Beverly, from Arden to Van Ness (including the mayor's mansion), and is quite the Halloween scene. Expect lots of company enjoying the decorations and abundance of treats. Norton and Van Ness south of Beverly are particularly good.
Eagle Rock
Those hip folks in Eagle Rock seem to have the edge on everything, and Halloween is no exception. Hill Drive is the pride of the East Side when it comes to trick-or-treating. The passion with which these folks decorate their homes leads to everything from pedestrian traffic jams to camera-toting news crews. Oh - and loads of candy.
Angelino Heights
If you've got older kids who can handle hills and spooky mansions, Angelino Heights might be your Halloween destination. At 125 years old, it's one of the oldest neighborhoods in LA—some call it the city's first suburb—and the Victorian homes take very little effort to spook up. That's not to say that the residents don't put in effort, because they surely do. Following the streets between Sunset Blvd. and the Hollywood Freeway definitely leads to a memorable Halloween.
Toluca Lake
Legend has it that it's Bob Hope's fault. Generations of Tolucans tell tales of the full-size candy bars and signature toys that the King of Comedy handed out until his death in 2003 (after which his wife carried the torch a little longer). The crowds that his generosity lured evidently inspired the rest of the neighborhood, and these days the area from Riverside Drive down to the lake is as decorated as a neighborhood can be. And, while there are plenty of film industry folks giving out generous supplies of candy, the houses are close enough together to be easily walkable (unlike some affluent areas).
South Pasadena
Word on the street is you can't go wrong anywhere in South Pasadena; just pick a street. South Pasadenans take tremendous pride in doing Halloween right, dressing up their hundred-year-old Craftsman homes to look far more haunted than stucco ever could. They also take pride in playing host to the original Halloween house (from the movie)—an honor they take so seriously that the place has been moved at least once to protect it from demolition. Streets like Mission, El Centro, Oxley, and Montrose hand out upwards of 800 pieces of candy over the course of the evening; most residents just stay on the porch to enjoy the parade.
Beverly Hills
The Beverly Hills Flats neighborhood—so called to distinguish it from the hills—is a prime spot to enjoy good treats and memorable decorations. The area is roughly defined by Sunset Boulevard on the north, Doheny on the east, Whittier on the west, and Santa Monica Blvd. to the south. And the most memorable doorbell to ring? That would be the Witch's House at 516 N. Walden. There's no question which one it is, as it's clearly a witch's house; the not-at-all-witchy owner hands out upwards of 500 treats per night.
Culver City
Culver City gives South Pasadena a run for its money, stucco houses and all. The homes in the neighborhood around Veterans Park and Culver High School go wild decorating, while the neighbors just across Ballona Creek, around Lindberg Park, would argue that they own Halloween. Either side of the creek, there is a whole lot of spookin' and a whole lot of treatin' going on.
Cheviot Hills
The folks over at LA Curbed consistently rate Cheviot Hills the top trick-or-treat locale in the city. Certainly Beverlywood and Rancho Park kids seem to agree, as these two neighborhoods usually empty west into Cheviot Hills on Halloween evening. There is one house in particular on Motor that draws crowds of admirers of all ages, but anywhere in the Cheviot Hills neighborhood, kids get way more treats than tricks.
Pacific Palisades
Fresh sea air beckons in the Palisades, and neighbors get in the spirit every year with plenty of treats and first-class decorations. The narrow Alphabet Streets north of Sunset (also known as North Village) are some of the best, most trick-or-treater-friendly streets, with names that go in alphabetical order - good for remembering where you started and how to get back!
Venice Canals
And now for something completely different. The Venice Canals are beautiful to walk around any evening you name; add the effort that locals put in decorating their homes and boats, and you've got a Halloween feast for the eyes. Take Dell into the neighborhood, where pedestrian-only streets offer another bonus for trick-or-treaters. And you can add great candy to scenic and safe; the canal residents set kids up with plenty of sweets.
Balboa Island
If Orange County is your stomping ground, you can indulge in a treat that's probably too tricky for north-dwelling Southlanders. Balboa Island is a feast for the eyes at this time of year (when isn't it?) with picturesque sea cottages decorated up to the eyeballs and beyond. Parking is always the challenge of Balboa Island, but if you can navigate around that, trick-or-treating the island's tiny, skeleton-clad streets is as near to perfect as a Halloween could be.
Huntington Beach
OCers who don't care to funnel their families onto an island for the evening, no matter how quaint, still have Huntington Beach to look forward to. The free Halloween Carnival on Main Street is legendary—and the legend has launched some über-trick-or-treating in the surrounding neighborhoods. Peer down any residential street as you leave the carnival, and if you see decorations, you're headed for a grand evening.
Are there other hallowed Halloween neighborhoods you think we should include? Please share in the comments section below! And if you're wondering how on earth San Francisco beat us out for first place this year, check out the article on Zillow.
Originally published October 24, 2012