Hikes for LA Kids: Best Hiking Trails for Families in LA & OC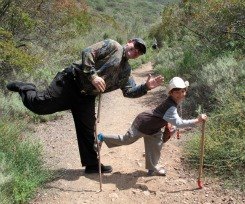 It's the weather. Let other states boast about their cheese; we know they'd rather have our weather. Hiking season? Ha! LA's hiking season starts January 1 and ends December 31; there's hardly a day in the year when the hills don't beckon.  We've got hikes in the woods, hikes by the beach, stroller-friendly hikes, hikes near the stars' homes, and hikes to world-famous landmarks. If you keep an eye on our daily calendar, you'll also spot an assortment of free, ranger-led hikes in the Southland's many city, state, and national parks. And keep checking this page, because we're adding new hikes that our team of parents have tried all the time.
Meanwhile, you could be doing one of these hikes below right now!
Hiking with Kids

The Best Los Angeles Area Hiking Trails for Families

10 Great Stroller-Friendly Hiking Trails in the Los Angeles Area

Spring Wildflower Hikes for Families in Southern California

5 Toddler-Friendly Hikes and Nature Walks In & Near Los Angeles

A Family Hike to the Hollywood Sign

Hikes with Kids: Lake Hollywood Perimeter Trail

Hikes with Kids: Topanga State Park's Santa Ynez Canyon

Geocaching with Kids: Scavenger Hunts All Over LA

LA Bike Rides and Paths for Biking with Kids

LA and OC Nature Centers for Environmentally Minded Kids