Santa Monica Citywide Yard Sale
When:
Saturday, September 28, 2013 at 8:00am to 3:00pm
Where:
Throughout the City of Santa Monica 2500 Michigan Ave, Santa Monica CA 90404
Cost:
FREE
Website:
http://www.smgov.net/r3
Ages:
All Ages
Add to cal:
Google Yahoo iCal/Outlook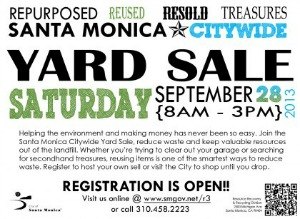 Santa Monica holds its 4th Annual Citywide Yard Sale. Residents and local organizations can sign up to have their sales and featured items listed in the catalog of sales; buyers can preview locations and selected items for sale.
TO SELL
1. Register online at www.smgov.net/r3 before September 20th to make it into the newspaper
2. Plan your own set up in your own front yard. (Why not invite your neighbors to join in?)
3. September 28th - Wake up early and set out your goodies. Then sit back and get some return on your old investments.
4. At the end of the sale, you can survey what is left over and determine what can be donated to local organizations using the Reuse Resource List available online
TO BUY
1. Mark your calendars – Save the date.
2. Keep your eye on www.smgov.net/r3 for a map of participating locations and the items for sell available beginning September 20th.
3. Visit the City on September 28 and find your treasures!
Filed under: